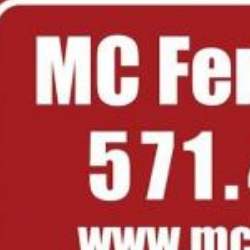 43060 Jackpit Ln
,
Ashburn
,
VA
20147
---
---
Company Highlights
Financing offered
Residential & commercial services
By Denise
I absolutely love the fence!! Thank you sooo much! I have no idea how they finished it so quickly!! My neighbors have already called to tell me how much they like the fence!!
By Mark
I've already passed your details on to a friend looking for a fence. Thanks for the great job.
By David
Installation crew did a great job. If they had any questions they would knock on door. The owner came out to see how everything was going. I will be using this company when it comes time to install my deck.
By Susan
I had asked about screening in either our front porch or back patio, but think that we would like to see a quote about building a screened in structure over our detached floating deck.
By Randy
Mike..Thank you so much for the great job!  The fence looks great and we will be using you all for our new home. 
By Kim
 M.C. Fence and Deck finished our project almost two months ago and my husband and I are extremely happy with the final product. We had a porch added to the back of our house with a fireplace, slate floor, and recessed hot tub. The project was not only finished on time, but the price was unbeatable. The entire crews, from the construction team, to the painters, electricians, plumbers etc., were all true professionals and pleasant people to work with. We have had so many compliments on our new space and have enjoyed using it! We look forward to enjoying our new space even more as the weather starts to warm up. My husband and I would recommend M.C. Fence and Deck to everyone!
By Patricia
Great job I am very happy with our new fence.
By Judith
You all did an Excellent Job, Thank you so much!
By Eric
Excellent job delivering what was promised. - we love it .. Foreman was top notch!
By Jamie
Overall, I was extremely satisfied and will recommend MC fence and deck to anyone:)
By David
Great job...we love the fence!
By Lisa
The Fence Looks great!  The installers were so nice and worked so hard.I am so impressed!  Thank you for everything.
By John & Crystal
Mike, The fence went up today and I just really wanted to throw some props to your guys, they did an awesome job with everything. I'll be sure to reference anyone I come across looking for a fence your way. 
By Robert
Best looking fence in our neighborhood. The quality is a lot better than your competitors.
Ashly B.
Leesburg, VA
Thank you so much for all your hard work on our fence. Your team did exactly as we wanted. The fence is so beautiful and we will recommend your company to everyone we talk to.
Thomas D.
Leesburg, VA
We had many companies to choose from, most in the same price range. Our decision was influenced heavily by your professionalism, very thorough presentation, no-pressure approach and obviously the quality work your company has to offer.
Kim-Kay R.
Leesburg, VA
David – We can't stop talking about the fence. It is so refreshing to have the clean looking wood and to not have the fence holes. You all did such a nice job in between all the rains and we just wanted you and your team to know how much we appreciate the work that was done. THANK YOU!
Brenda
Herndon, VA
"I'm writing to extend my sincere thanks and appreciation for the fence your company installed on my front property line. The fence is beautiful and so perfectly straight that my husband and I marvel at how much better it looks than if we had done it."
Tony L.
Leesburg, VA
Vinyl fence looks really good and have received compliments from neighbors.
Linda L.
Reston, VA
The Colwell family were wonderful to work with: everything was done promptly and professionally and the fence looks great! Our estimate was done immediately, all my follow up questions were answered right away by phone and email, and they were able to put the fence up two days after our HOA approval came. The team worked quickly and left the work site clean and tidy when they left. Great job! I would recommend this family owned company to everyone!
Chris C.
Reston, VA
"They had the materials dropped off the morning before, and were at our home promptly at 8:00 AM. They tore the old fence down, and put the new fence up and completed by 2:00 PM. They completely cleaned up after themselves and hauled the old fencing away. A+, 10/10, whatever scale you want to use they are at the top. Already have asked Mike to give us a quote on replacing our deck. These guys are the best, and I can't recommend them highly enough."
Becky C.
Great Falls, VA
Mike, Thanks so much the fence looks excellent.
Becky C.
Great Falls, VA
Mike, Thanks so much, the fence looks excellent!
Kim M.
Waterford, VA
gain Mike Colwell I can't thank you and MC Fence enough for giving Macy easy access in and out of the house. I had the 1 story house but she was having more and more difficulty on the stairs. Now she is free to go in and out as she pleases without pain, nothing makes her happier than to roam the yard or sunbathe on the deck and now she can do it all day, every day. It sometimes used to take Macy 10 minutes to get in the house from the yard, now Macy is SO happy we LOVE you :)
Sheila
Oakton, VA
I want to thank Mike for his incomparable skill and knowledge of the fence industry. He was timely, organized, knowledgeable, and offered a fair price for my project. Without doubt I would recommend Fence Makeovers to anyone planning a fence project.
Larry W.
Purcellville, VA
I just want to thank you for all of your hard work designing and building my new deck and pergola. My wife and I are thrilled with the results. We were treated with such care and every effort was made to build exactly what we wanted. We love the quality of craftsmanship Mario and Scott achieved on our project.
Debbie
Purcellville, VA
"When I came home yesterday, I could not believe how amazing my new fence looked. Your crew did an amazing job. It was also a pleasure to work with your salesperson, very professional and knowledgable. "
Mary H.
Fairfax, VA
Mike, thank you so much for the great work you and your crew did no our fence and railing. It looks great and we will reccomence you to everyone.
Bill R.
Falls Church, VA
Thank you for a absolutely terrific job. We were in shock after our neighbor's 90 foot tress fell on our new MC Fence and house. KC came and talked us through the repairs to the old fence as well as new fencing that we wanted installed. We were extremely happy with his patience and thoroughness. And then there was the installation. MANUEL AND HIS CREW WERE FANTASTIC. Manuel's ideas on how to fit the fence in with the neighbor's fence and property line was SPOT ON. The crew did top notch work in a very short period of time. We are thrilled with the fence and MC Fence
No Name Given
Annandale, VA
Matt and his team did a great job. They patiently worked with us and our neighbor and the property survey to correctly align the fencing to the property lines. They removed unneeded and old materials and hauled it all away! Every step of their job was professional and well done. We needed the fence done as quickly as possible and Matt and his team were able to deliver. The primary reason I went with this company was that I truly believed they would come through with what we discussed on time and I was definitely not disappointed. They were not the lowest estimate I received, but the professionalism and quality they delivered were worth the extra money and assurance I had that things would turn out well.
Julie I.
Burke, VA
Great job on the fence! I meant to send this sooner but have been crazy busy with the new job . Feel free to use me as a reference. We could not be happier with the entire process and final result. We appreciate it!
Julie I.
Burke, VA
I found MC Fence and Deck through great online reviews and could not be happier with the high quality work as well as the level of professionalism shown by Hunter, one of the sales representatives. I had met with several other fence installation companies prior to meeting with Hunter so I thought I had a good idea of what to expect. Hunter more than exceeded my expectations. He was thorough in every aspect of the job and followed through in a timely manner with the most reasonable price. The job was done on time and exactly what we had hoped. We are really happy with the finished product and highly recommend MC Fence.
Cole Family
Falls Church, VA
Hello Mike and the MC Fence Team, I must say that my brother and I are truly impressed with your workmanship and quality of our new fence. Manuel and his helper were superior workers and everyone who has seen the fence is in awe. We will both be responding to Angie's List and consumers checkbook as we would certainly recommend you to all of our friends and family. The fence you built for us goes well beyond our wildest expectations; it is so much more beautiful than I thought it would be. The cedar is elegant and we may stain it transparent in order to keep the look now and then go dark at some point in time. We are still in the admiring stage. My utmost thanks to all of you for creating a magnificent look as folks drive down our street. Both Cole families are thrilled!
Ryan M.
Warrenton, VA
Project: Build or Replace a Deck or Non-Masonry Porch Comments: I sought bids from numerous contractors to build a composite deck and MC offered the best price. Made the deposit in late August and job was completed by early December, as weather and backlog delayed the start of the job. I didn't mind the wait as I just needed the deck done in time to enjoy in the spring. Once they got going the two-man crew worked over a 7-day stretch and completed the job resulting in a nice looking deck that passed all the county inspections. The crew cleaned up the debris before leaving. I recommend seeking a quote from MC before signing with another contractor.
Before

After

Pressure Treated Picket Fence Installation Ashburn, VA

This resident of Ashburn wanted a new fence to keep her kids in her yard while also increasing curb value. M.C. Fence provided a detailed written estimate for a affordable pressure treated picket fence.

We installed the Fence in 6 hours and now they have a safe new yard to enjoy!

Before

After

Fence Installation in Ashburn, VA

Briar Woods High School needed more room and needed to move some fencing. MC Fence was contacted for a bid. MC Fence was chosen based on the quality of previous work. Briar Woods High School now has the room they need and a gorgeous fence to match!

Before

After

Privacy Fence Install in Aldie VA

This homeowner needed some privacy for her town home. She called M.C. Fence to provide a free quote. We visited, inspected, and provided a free, written quote on the spot.

The client selected M.C. as her Licensed and insured fence company. We installed the fence in only 6 hours! They love the finished project.

Before

After

Wood Privacy Fence Installation in Chantilly VA

M.C. Fence was selected to install remove and old wood privacy fence and install a new one. The owners chose M.C. Fence because of the quality of the installation of their neighbors fence. We installed the new fence and the family is now happy in private!

Before

After

Fence installation in Chantilly, VA

M.C. Fence and Deck installed this cedar privacy fence in Chantilly VA. The home owners had a "special" neighbor who loved to see what was going on in their house. We created this beautiful barrier for him to look at instead.

Before

After

Paddock Fence Installation in Hamilton, VA

M.C. Fence was contacted to provide a free estimate on an aging fence. We arrived on time and provided a written estimate. The homeowner chose M.C. Based on reputation and quality to install the new paddock fence. M.C. Arrived 4 days later and installed a new paddock fence - She was thrilled!!

Before

After

Paddock Fence installation, Hamilton, VA

M.C. Fence was contacted to replace a paddock fence that was falling down. The client wanted it installed quickly, so our team came out and provided a written, detailed proposal. The client chose M.C. Fence to do the job. We replaced the paddock fence within 4 days. The client and his Horses are now happy!

Before

After

Vinyl Fence Installation in Round Hill, VA

This homeowner had enough with painting her fence white each year! She searched for A rated Fence companies who serve Round Hill VA. M.C. Fence came up a a Five star rating.

She called and requested an estimate. Mike From M.C. Fence went out the next day and provided a detailed written quote on the spot.

The client hose the to take advantage of the 12 months no interest financing. M.C. Fence installed the fence in 1 day and she never has to paint her fence again.

Before

After

Vinyl Privacy Fence Installation, Round Hill, VA

The residents wanted some privacy in their corner home. They also wanted to keep their Children safe while playing in the back yard.

M.C. Fence proposed a vinyl privacy fence that would keep the children in the back yard, add privacy and require no maintenance for years to come.

M.C. Fence installed the fence in one day and the residents are now happy.

Before

After

Railing Installation in Dunn Loring, VA

The residents needed a handrail on the front steps of their home for safety. M.C. Fence and Deck meet with the owners and proposed a long lasting aluminum rail system that attached directly to their stone steps.

The aluminum railing system was installed in 1 day, and the residents are happy they can use their front door again!
Angie's List Super Service Award 2012
Angie's List Super Service Award 2013
Angie's List Super Service Award 2014