Hiring the right contractor, choosing the right roofing material, and more from the experts at HomePro Match
As a homeowner, maintaining a healthy roof is essential for the well-being of your home. As roofs decay over time, maintenance and/or replacement costs can skyrocket, and there are many related problems that can arise.
At HomePro Match, we want to ensure that you feel empowered to handle any roofing issue and that you feel prepared when installing a new roof.
Read on to learn what to look for in roofing material, important seasonal tasks, and red flags that should have you calling a certified HomePro Match contractor.
Choosing the Right Roofing Material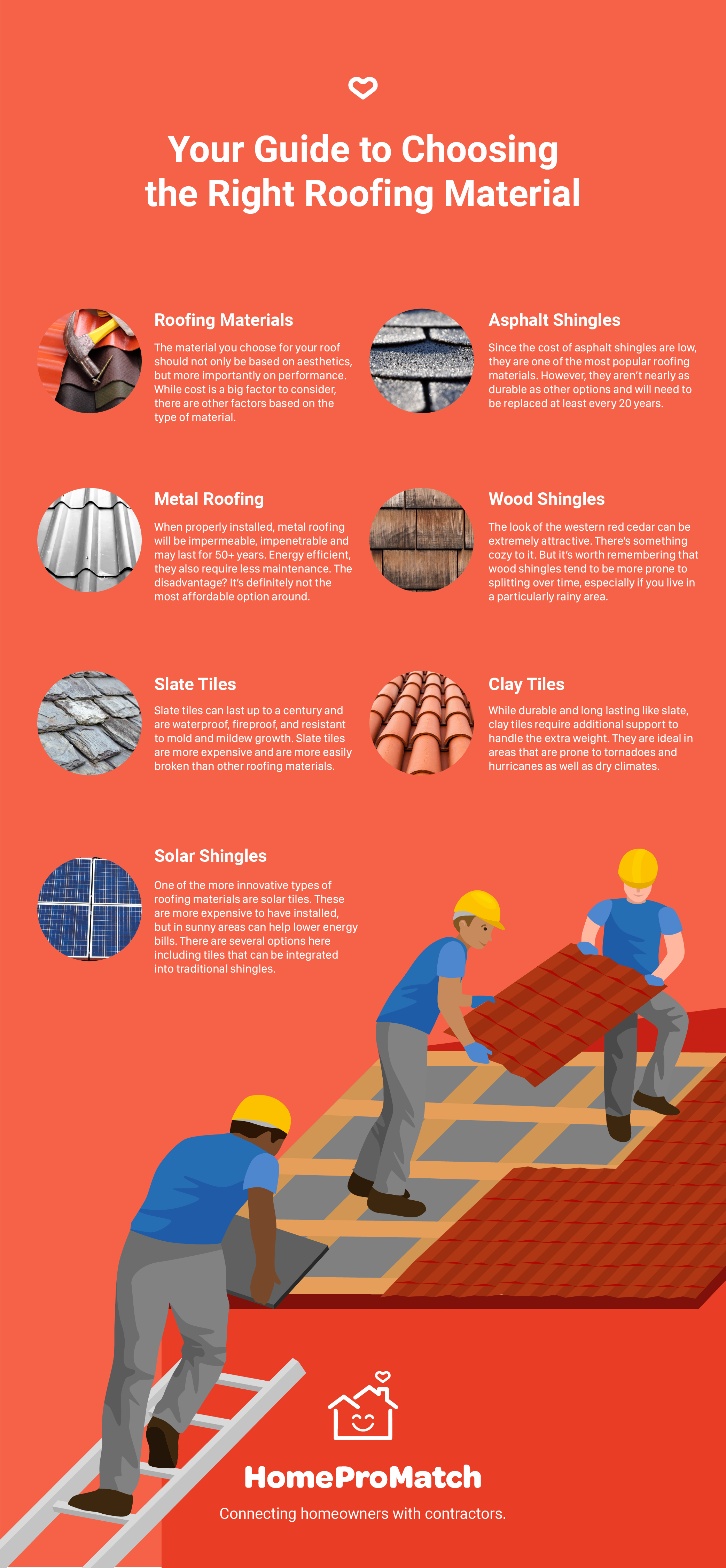 The material you choose for your roof should not only be based on aesthetics but, more importantly, on performance.
While cost is a significant factor to consider, there are other factors based on the type of material:
Asphalt Shingles (or Asphalt Composite Shingles) - The most popular shingle material. With an average lifespan of 25 years, costs are relatively low at $200 - $500 per square (100 square feet).
Metal Roofing (Metal Shingles/Shakes and Standing Seam Metal Roofing) - With a lifespan of 50 years or longer, metal roofs are exceptionally weather resistant. Costs range from $800-$1200 per square.
Wood Shingles - While very attractive, wood shingles can be prone to splitting and rotting over time (depending on the climate). Installation costs average $450 - $650 per square, with an average lifespan of 25 years.
Clay and Concrete Tiles - While very durable (lasting up to 50 years), clay and concrete tiles are heavy and require special installation. Averaging $500 per square (installed) this can easily exceed $1,000 depending on the complexity of the roof.
Slate Shingles - Extremely durable and elegant, it is not uncommon for a slate roof to last 100 years or more. Installation costs range from $800-$1,500 per square. Keep in mind this material is heavy and may require extra support to install.
Synthetic Slate Tiles (Rubber) - While not as fragile or bulky as natural slate, this material is relatively new, and not yet time tested. Installation costs range from $400 - $900 per square, making it less expensive than traditional slate.

Maintaining Your Roof and Checking for Damage

Homeowners should pay close attention to their roofs. The following are signs you should get an inspection or repair:

Shingles that are cracking, curling, buckling, or blistering.
Torn or missing shingles.
Dark stains or streaks on the shingles.
Moss or mold growth. This is a sign of excess moisture, which can lead to more severe problems.
Broken and damaged flashing.
Interior condensation or water damage.
General age: if your roof is 20+ years old, get a professional inspection. It may be time for a more extensive repair or replacement.

Roof Maintenance: How to Keep Your Roof Healthy

Homeowners should maintain their roof, ensuring the longest possible lifespan. Six maintenance tips include:

Trim trees and branches annually to minimize leaves and other debris from landing on the roof and gutters.
Regularly clean the gutters.
Look for cracked pipe boots and flashing.
Remove moss, mold, and other growth.
Clean and maintain your chimney. This includes not only cleaning the inside of the chimney, but repairing any exterior bricks or cement.
Schedule a professional roof inspection every year, or after extreme weather events.

Common Issues for Roofs in Winter and Summer

During the Winter, or if you live in a cold-weather region, your roof may experience wear and tear from seasonal shifts. Pay attention to the following common issues:

Ice dams and icicle build-up in and around the gutters.
Condensation and water damage to the interior and exterior of your home.
Flashing cracks and leaks.
Loose shingles due to high winds.
Damage from falling tree limbs. Damage can also occur from branches that are close to the roof and gutters due to hitting and scratching.

During the Summer, or in hotter regions, different issues can affect a roof, such as:

Sun damage (such as cracking and splitting) from strong UV Rays.
Algae and moss growth.
Cracked shingles from strong sunlight and high temperatures.
Excessive moisture due to humid conditions or poor attic ventilation.
Damage from a storm. Wind and rain damage can be especially prevalent during the summer months.

What to look for when hiring a roofing contractor

When looking for a contractor, first see if they are highly rated on HomePro Match, and consider the following factors:

They must have proper insurance. Ensure they have both workman's compensation and liability insurance.
Make sure the contractor is appropriately licensed and bonded. Most states require a licensed contractor to have insurance, just in case a problem arises. If a problem does occur, bonding allows the contractor to pay for damages if they are taken to court.
Hire a contractor who works locally. You want a contractor who has a good reputation in your neighborhood to work on your roof. This will help to make sure the job is completed correctly and on time.
Obtain written project scope, which includes the schedule and the work the contractor is doing during that time.
Get a written estimate, which includes a description of the materials, including cost. Labor costs should be written separately in the estimate.
During the hiring process, keep track of communication. Did the contractor return your calls? Did they provide the right information on time? If the contractor is not communicating now, it may cause a misunderstanding or delay once the project begins.