The style of your home is a personal decision, and it can be one of the best parts of being a homeowner. Whether you start your home style from the curb with landscaping, or take it one step further with the structure of your home, or customize the interior with your design taste-all of these choices are a reflection of you and your family.
More than anything, the interior design and style of your home is a flexible and personal choice. Throughout the decades, we've seen home décor/style and interior design transform. Like clothing or music, our tastes change with the ages. While everyone's style is different, some trends have remained popular for decades.
You might be asking: how do I want to style my home? The answer is up to you, which means you simply need to find inspiration and come up with your style. Below, discover the five most popular home styles, and how the interior affects the contracting projects you may want to start in the coming year.
1. Industrial
Image by DSigners
Industrial home design has always been in style but has recently become ever more popular among homeowners and interior designers. Although the term "industrial" may make the style sound cold and uninviting, the design revolves around taking an industrial space and making it comfortable.
Many accessible living spaces such as loft apartments and renovated buildings are typically "industrial" by industry standards. Homeowners, landlords, and renters alike have trended toward this style because it combines modern and vintage motifs throughout the home.
Some popular aspects of industrial style choices include, but are not limited to:
Neutral color palette as the home's base (browns, tans, blacks, whites, grays)
Exposed brick and pipes in loft spaces and homes
Open layouts/open floor plans
Prominent wood & metal materials throughout the home
Vintage lighting features and old-world touches
---
2. Mid-Century Modern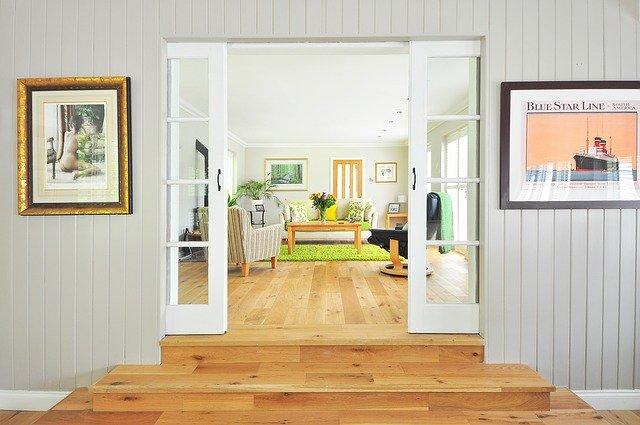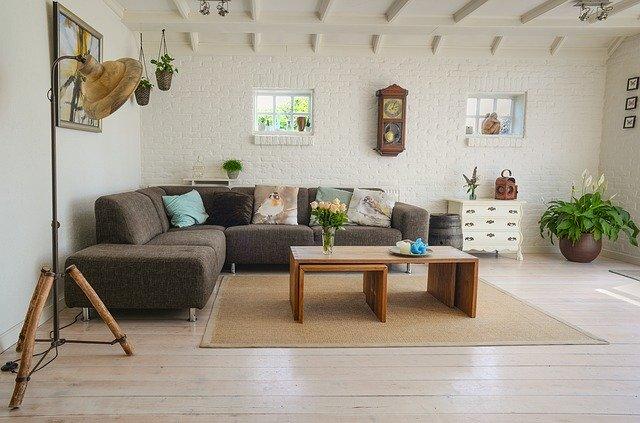 Mid-Century Modern is one of the most popular (and trending) home designs. Most homeowners, when thinking about mid-century modern designs, tend to think of furniture, but the term itself encompasses so much more (like architecture and graphic design).
This design style rose to popularity in the 1950s (think Mad Men) but has continued to resurface throughout the decades and is even more popular today. Generally, when we think of mid-century modern home design, we think of functional, minimalistic furniture and architecture featuring wood, metal, glass, and lucite.
If you walk into any popular store selling furniture today, you will notice that a vast majority of the décor is considered "mid-century modern. Some features of mid-century modern style choices include, but are not limited to:
Minimalistic, functional designs, featuring clean/geometric lines and forms
Contrasting organic materials (such as wood and leather)
Warm, bright colors for statement pieces
Negative space (less clutter, more room)
Furniture with tapered legs
---
3. Contemporary
Contemporary home design can be broken down into a plethora of sub-genres, but at its core, it consists of geometric shapes, bright colors, and unique materials. As modern home decor bleeds into contemporary, it can be challenging to gauge what exactly you are looking for, but at its heart, contemporary design tends to jump out a bit more and showcase the entire room as an art piece.
Unlike past forms of home decor and genres of style, modern furniture tried to push the envelope and be unique. In this regard, modern home decor created something altogether new. Some elements of contemporary design include, but are not limited to:
Bare, bold, and structural elements
Bare, smooth floors (wood, tile, vinyl)
Track lighting and recessed lighting
Materials such as metal, stone, and clear glass
Simple artwork with bold accent pieces/decorations (pillows, rugs, etc.)
Plants and flowers for additional touches of color
Image by SAOTA
---
4. Farmhouse (or Modern Farmhouse)
Image by Dreamy Whites
Unlike some of its Contemporary and Modern counterparts, Farmhouse design is created for comfort and practicality. Farmhouse home styling can sometimes get a bad rep, primarily because some homeowners feel that the style can be outdated.
However, we're here to tell you that the rustic, simple, and bright designs of Farmhouse décor can be perfect for a family living space. Popular shows on HGTV have capitalized on the reemergence of Farmhouse décor, implementing reclaimed furniture, "shabby chic" décor, barn doors, and more to new structures. Some elements of Farmhouse design include, but are not limited to:
Bright, clean colors (white, light tans, light blues, etc.)
Open shelving and cabinets
Warm, comfortable couches, rugs and chairs for family living spaces
Reclaimed and vintage furniture & accessories
Shiplap or tone-and-groove paneling
Exposed, reclaimed ceiling beams and barn doors
Wood floors, particularly with wider planks
---
5. Nautical
Similar to the Farmhouse home decor style, Nautical home decor is a bit more niche than modern, industrial, and mid-century modern. Nautical decor can add a touch of personality to a home and is popular among vacation homes along the ocean but has become more popular across the country in recent decades. Of course, with Nautical styles, homeowners often take aspects of open sea fishing and boating life to their homes, such as knotted ropes, caged lighting, and anchor-themed wall decorations.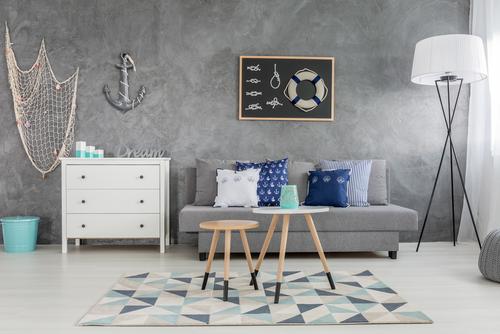 Nautical design can be more subtle, though, particularly with color choice, window coverings, and decorations. Some elements of Nautical design include, but are not limited to:
Light & bright colors that reflect the ocean (blues, whites, tans)
Wicker, rattan, and wooden furniture in lighter tones
Natural fibers and organic materials for rugs, curtains, and bedding
Décor inspired by beaches, surfing, fishing, and boating
Glass accents, particularly with home décor or in kitchens
Regardless of your style, there is undoubtedly a type of home decor that matches your aesthetic. Want to start redesigning your space? Call a HomeProMatch contractor to learn more about how they can help you create the home of your dreams!
---